November 29, 2018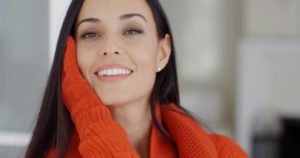 Do you have family gatherings planned for next month? Are you going to attend a year-end office party or go out for a night on the town to welcome the new year? Regardless of what you have in store for the near future, you'll want to look your best. That's why now may be the perfect time for you to consider getting porcelain veneers in Lake Highlands. This remarkable cosmetic treatment has the power to transform your smile and help you feel like a million bucks.
What Are Porcelain Veneers?
Porcelain veneers are thin, custom-made covers that your dentist in Lake Highlands permanently attaches to the fronts of your teeth. Their job is to hide all of the aesthetic flaws that rob your smile of its true potential. Some of the imperfections they can disguise include:
Cracks and chips
Minor crookedness
Discoloration
Teeth that are too small
Oddly shaped teeth
Small gaps between the teeth
You can choose to receive a veneer for just one unsightly tooth, or you can opt for a whole set of veneers if you're ready for a complete smile makeover.
Benefits of Veneers
If you're looking for a way to treat yourself, veneers are a great way for you to indulge in a little pampering! Not only can they dramatically improve your appearance, but they also:
Resist stains. You can expect your veneers to maintain their brilliant look for years.
Are durable. Veneers tend to last at least 10 – 15 years before they need to be replaced. This makes them a better investment than other cosmetic treatments, such as dental bonding, that tend to have a shorter lifespan.
Encourage good habits. Protecting your veneers will require you to stick to excellent oral hygiene habits.
The Porcelain Veneer Process
The process for porcelain veneers begins with a consultation with your cosmetic dentist in Lake Highlands. This appointment is your opportunity to ask all of your questions about veneers and describe your cosmetic goals to your dentist. If you and your dentist determine that veneers are the right treatment for you, your procedure can begin.
First, your dentist has to prepare your teeth by removing a sliver of enamel from them. This step is important because it allows your new smile to look as natural and streamlined as possible. Then, your dentist will take detailed images and impressions of your teeth, which serve as the basis for creating your custom veneers.
You'll wear a temporary veneer while you wait for the laboratory to fabricate your veneers. When they arrive in your dentist's office, any necessary final adjustments will be made to them. Then, your dentist can attach them to your teeth.
Would you like to put a little more wonder in your winter? Ask your dentist whether porcelain veneers are right for you.
About the Author
Dr. Jim Miller has over 30 years of experience in his field. He is a member of the American Academy of Cosmetic Dentistry. If you would like to discuss your smile goals with Dr. Miller, contact our office at 214-340-2111.
Comments Off

on Let Porcelain Veneers in Lake Highlands Light Up Your Smile
No Comments
No comments yet.
RSS feed for comments on this post.
Sorry, the comment form is closed at this time.