Dental Implants – Lake Highlands, Dallas, TX
A Revolutionary Solution to Tooth Loss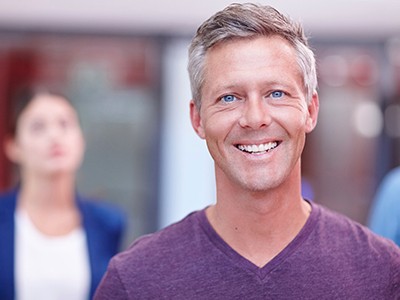 Why Choose Dr. Jim Miller for Dental Implants?
Custom-Made, High-Quality Restorative Solutions
Outstanding Longevity – Enjoy New Teeth For Life
The Latest in Proven Dental Technology
In today's modern dental landscape, there is no better solution for replacing missing teeth than dental implants. Implants provide not only outstanding health benefits to patients in need, but gorgeous aesthetic value, seamless durability, and impressive longevity – many new "teeth" last for the rest of a patient's life! Here in Lake Highlands, Dr. Miller looks forward to helping you explore this transformative service during an initial consultation. Don't hesitate to contact us today to learn more.
Benefits of Dental implants
The most significant and unique benefit of dental implants is that, unlike more traditional services, they actually rebuild the ENTIRE natural tooth. This includes the white crown and the root that exists underneath the gum tissue. With a new, thriving tooth root in place, patients will avoid bone deterioration over time and maintain a stronger, healthier smile down the road.
Additional benefits include:
Natural & durable function
Top-tier cosmetics – the new "tooth" will be virtually indistinguishable from the original
No damage is done to surrounding healthy teeth
A general success rate of up to 98%
Cared for properly, dental implants can last for multiple decades or even a lifetime
Indications for Dental Implants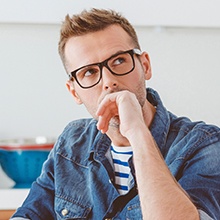 So you're interested in replacing your missing teeth with dental implants – now what? Every person's unique needs and circumstances are different, and there are various restorative solutions that can be paired with implants depending on the number of natural teeth that have been lost.
Missing Single Tooth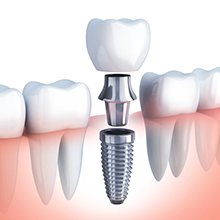 When a single tooth is missing, an implant-retained dental crown can fit into place over an inserted implant without requiring any significant alteration to the surrounding teeth. Plus, the all-porcelain structure will be a precise match for the rest of your confident smile!
Missing Multiple Teeth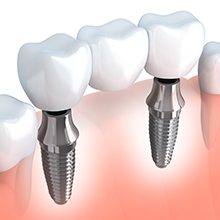 While individual dental implants are also a viable option for restoring multiple missing teeth throughout a patient's mouth, the cost can start to stack up. If the missing teeth once appeared consecutively, an implant-retained bridge can provide a sturdy, cost-effective, and natural-looking solution with the support of two dental implants on either side of the gap.
Missing All Teeth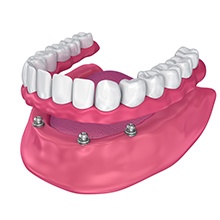 Contrary to popular belief, dental implants are often even available to patients who have lost most or all of their natural teeth. Dr. Miller can pair them with a partial or full implant-retained denture, which attaches securely to a small number of strategically placed implants for optimal security and comfort. The denture can be removable or may be permanently fixed in place depending on a patient's needs.
Partnered with Lake Highlands' Best Oral Surgeons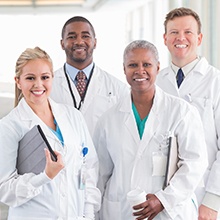 The surgical placement and restoration of dental implants is a multi-tiered procedure, and Dr. Miller is proud to work alongside outstanding local specialists in order to guide his patients through the process as smoothly as possible. Once the oral surgeon has inserted a dental implant and given it time to heal, a patient will return to our office so that we can get started on designing a custom-made, high-quality restoration to cover it. Through this partnership, each dentist's respective skills are maximized to the fullest extent!
Understanding the Cost of Dental Implants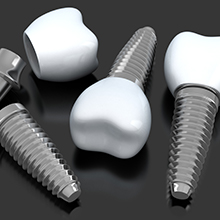 Choosing to restore missing teeth with dental implants will require multiple appointments and components of treatment – no two cases are exactly alike. There is the surgical placement of the implants themselves, followed by the addition of an abutment (connector), and the eventual, custom-made restoration. Each step comes with its own individual cost. During your first consultation with Dr. Miller, he will be able to assess your condition and needs in full detail and provide confident price estimates.
While dental implants may seem like a significant investment at first, it's important to remember that they will last for decades or even a patient's entire life. This means that you are likely to save money on repairs and full-blown replacements that would be necessary with more traditional treatments. Plus, the functional, aesthetic, and health benefits are truly unmatched!
Dental Implant Frequently Asked Questions
Are you interested in learning more about dental implant supported tooth replacement, but you're not quite ready to commit to scheduling a tooth replacement consultation? Take a few moments to read the answers to some of those questions we get most often about dental implant tooth replacement plans. If you need to learn more or have questions that aren't addressed here, don't hesitate to give us our friendly Lake Highlands dentist and team a call. We're here to help.