Intraoral Cameras – Lake Highlands, Dallas, TX
Experience Outstanding Patient Education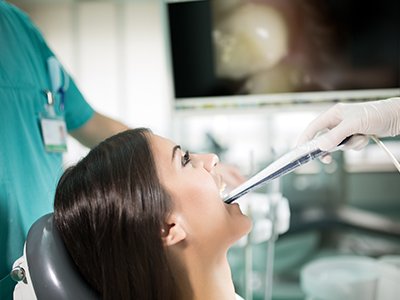 Why Choose Dr. Jim Miller for Intraoral Cameras?
Takes the mystery out of your dental care
Enables you to see what your dentist is seeing
Turns appointments into a fun & interactive experience
Sometimes, it can be difficult to understand what exactly your dentist is seeing as they peer inside your mouth. You can't see it yourself, after all – or can you? With the help of our Digi Doc intraoral camera, it's now more than possible for our Lake Highlands dental team to take patients on an up-close-and-personal tour of their own oral structures. We'll capture high-resolution images of your teeth and gums and transfer them to a monitor in the operatory for easy viewing, revealing even the smallest cracks, chips, and worn areas in full-blown detail. Dr. Miller can then refer to these images when discussing his findings and possible treatment options with you for 100% clarity.