Dentist – Lake Highlands, Dallas, TX
Trust Your Smile with Dr. Jim Miller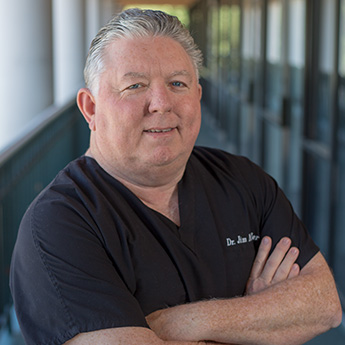 For 18 years, Dr. Miller got to travel the world thanks to his father being in the US Air Force, so he really considers himself to be a "global citizen." He basically could have chosen to live anywhere, but he happily put down roots in Dallas, where he has now been serving local families for more than 30 years. To Dr. Miller, great dentistry is always built upon a great relationship between a patient and their dentist, and of course, all relationships must begin with an introduction, so you can start getting to know him by reading on below.
Dental Education & Background
Dr. Miller ended up going to high school in Colorado, and after graduating, he began his college career at the University of Arkansas. Ultimately, it was his desire to help people by improving their health that drew him to dentistry, so he eventually enrolled in the University of Texas Health Science Center at San Antonio School of Dentistry. After graduating in 1985, he went on to open his Dallas office where he still practices today, and he looks forward to providing you and your family with the quality, comfortable, and affordable dental care you deserve.
Advanced Training & Certifications
Over the course of his career, Dr. Miller has taken over 1,000 hours of continuing education, helping him always stay on top of the latest advancements in dentistry. This has enabled him to gain extensive knowledge in general dentistry as well as orthodontics, endodontics (root canals), cosmetic dentistry, and oral surgery.
Dr. Miller has certifications in CEREC 1-Visit Dental Crowns, Invisalign Clear Braces, and laser dentistry, and he also maintains active memberships in the American Dental Association, Texas Dental Association, as well as the American Academy of Cosmetic Dentistry. For him, learning never stops!
Life Outside of Dentistry
Dr. Miller has been married to Kelli, a nurse at a children's hospital, for more than 30 years, and they are the proud parents of Ashley, who herself is currently a nursing student. When not spending time with his family or working with charities like Healing Hands and the Dental Lifeline Network, Dr. Miller likes to continue his travels and enjoy movies whenever he can.