Partials & Dentures – Dallas, TX
Rebuild a Beautiful Smile with Dentures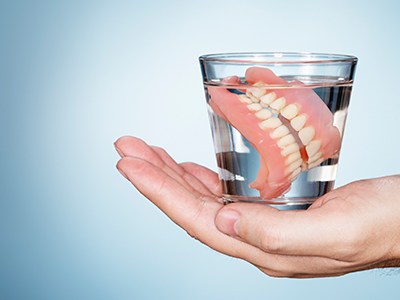 Why Choose Dr. Jim Miller for Dentures & Partials
Over 30 years of experience.
Can replace any number of missing teeth.
Every prosthetic is specially-designed for each patient.
New advancements in dentistry make it possible to preserve your quality of life through a healthy, functional smile, even for those who are missing teeth. Despite the latest innovations, tooth loss is a common problem. In fact, 120 million Americans are missing at least one tooth and another 35 million have no natural teeth. 20 million people in the U.S. turn to dentures to rebuild their smile. Dr. Jim Miller has the solutions you need to replace your missing teeth with partials or dentures in Lake Highlands.
Denture Options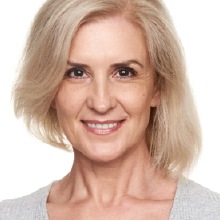 Here in Lake Highlands, patients can easily recover several missing teeth at once or even an entire arch with customized dentures made by Dr. Miller. Our dental office offers both full and partial traditional models that rest atop the gum line and can be conveniently removed from the mouth. If you are looking for more permanence and stability, our dentures can also be outfitted with state-of-the-art dental implants for a healthier, longer-lasting improvement.
Dr. Miller performs a comprehensive consultation to discuss your needs and your desired results to create a treatment plan right for you.
Partials
If you have several missing teeth, a partial will fill the empty spaces using prosthetics that are carefully crafted to look natural. They are featured in a gum-colored base that has a metal framework. This allows it to clip or clasp onto your remaining teeth to hold it in place. Your natural teeth must be healthy to support the appliance.
Dentures
Although they have a bad reputation for looking and feeling fake, new advancements in dentistry now allow dentures to be more realistic than ever. Your dentist in Lake Highlands takes an impression of your mouth to create a gum-colored base to hold the replacement teeth. The denture sits on top of your gum tissues and is held in place using suction or an adhesive.
Implant-Supported Dentures
Now, you can regain the next best thing to your natural teeth using the security of dental implants. Titanium implant posts are surgically placed into your jaw to secure your denture to your bone. You will never need to worry about any slipping or irritation while enjoying a solution that has the potential to last for a lifetime.
Cost of Dentures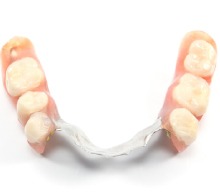 There is no set price you can expect to pay for your new smile because the amount is based on your individual treatment plan. There are several factors that influence the price, such as the number of teeth being replaced, the type of prosthetics, and if you need any additional procedures. Often, you can use your dental insurance to cover a portion of the cost of the treatment. We will help you maximize the value of your policy to reduce the amount you need to pay out-of-pocket. We also discuss your payment options, like CareCredit, to keep your new smile affordable.
Denture FAQs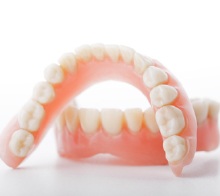 Which Type of Dentures is Right for Me?
Dr. Miller performs a consultation to assess your oral health and structures. He creates a customized treatment plan based on his findings to create a solution that meets your needs while also accommodating your lifestyle.
How Long Do Dentures Last?
Traditional partials and dentures last an average of 10 years before needing to be replaced. If you choose an implant-supported device, they have the potential to last for several decades with the right aftercare.
Rebuild Your Smile Today!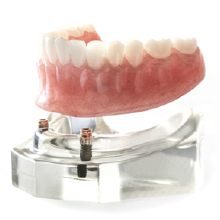 You can overcome the challenges of missing teeth with dentures. Contact our office today to see which solution is right for you.