October 3, 2018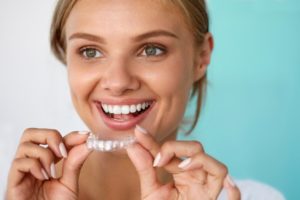 Advancements in orthodontic technology have allowed companies like Invisalign to flourish in the dental industry. Not only can teeth be straightened without the use of metal hardware, but more people are eligible for treatment than ever before. What's even more interesting is how Invisalign can help issues that were not previously possible, such as fixing poor bites.
Furthermore, adults who either couldn't afford orthodontic work in the past or who are experiencing relapses from previous treatments have a reason to get excited. Keep reading to learn how Invisalign in Lake Highlands makes it happen!
The Most Discrete Orthodontic Solution
Traditional braces use a large array of metal hardware to straighten teeth, including brackets and arch wires. Not only does the appearance of metal hardware feel unsightly to many people, but in some cases they can be allergic to the hardware that's used, resulting in additional irritation. If bad enough, the use of metal braces to straighten teeth is completely out of the question.
Instead of making dramatic changes to your appearance, clear aligners allow a subtler approach. Since aligners from Invisalign are fully transparent, you can straighten teeth and correct poor bites without your friends, family or coworkers even noticing. As long as you take the proper steps to prevent them from becoming stained or scratched, no one around you will be the wiser.
Ideal for Later Orthodontic Adapters
It's understandable if you weren't able to receive orthodontic treatment as a child. Many didn't realize how popular treatment would become, nor did they know if the health implications were worth it. In it's infancy, braces were more considered a cosmetic treatment, but now more experts are making the case for the health benefits of straighter teeth. Alternatively, it's entirely possible that your family could not afford braces at the time, but now as an adult you're able to.
In most cases, the cost of Invisalign is comparable to that of traditional braces. However, fewer dental visits are necessary with Invisalign, meaning you're able to save money on visits as you complete treatment.
Are You Experiencing an Orthodontic Relapse?
One of the more common reasons adults pursue orthodontic treatment later is because of relapse from a previous treatment. Many patients who had braces before but then failed to wear their retainer long enough afterwards saw their teeth shift back into their crooked position.
Luckily, Invisalign caters heavily to people in situations like these. Of course, you'll still need to wear a retainer after you complete Invisalign treatment. The main difference is you understand how important aftercare truly is to maintaining straighter and healthier teeth.
Ready to start your journey to a healthier smile? Schedule an appointment with a cosmetic dentist in Lake Highlands today!
About the Author
Dr. Jake Miller earned his dental degree from the University of Texas Health Science Center at San Antonio. Since then, he's obtained a certification in Invisalign Clear Braces, allowing him to use aligners to help patients straighten teeth and fix malocclusions. To learn more about his practice, you can contact him through his website.
Comments Off

on Invisalign in Lake Highlands: A Great Solution for Adults and Teens
No Comments
No comments yet.
RSS feed for comments on this post.
Sorry, the comment form is closed at this time.