December 11, 2018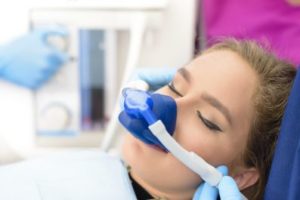 Are you one of the estimated 30-40 million Americans who avoid going to the dentist because of fear and anxiety? With some phobias, such as a fear of spiders or heights, you can easily avoid what you're afraid of. But since everyone needs healthy teeth to eat and speak comfortably, you simply can't avoid getting the dental care you need. The good news is that a sedation dentist in Lake Highlands can provide you with great dentistry in a comfortable, fear-free environment – a win-win situation! Learn more below and take the first step towards conquering your fear.
What Are Your Sedation Options?
The most common type of sedation provided in a dental office is conscious sedation. It will make you feel calm and deeply relaxed, but you'll remain aware of what's happening around you.
There are two main types of conscious sedation, which can both be used for routine dental work like checkups and cleanings, or for more extensive procedures like fillings and crowns:
Oral Sedation – This is simply a prescription medication that's taken by mouth prior to your visit. One thing that many patients appreciate is the mild amnesia effect they get from oral sedation. Although you'll still be aware and in control during a procedure, you'll likely have no memory of it afterward. The effects last several hours, so you'll need to have someone drive you to and from your appointment.
Nitrous Oxide – Also known as "laughing gas", this is an odorless gas that you'll breathe through a comfortable nosepiece during your treatment. Although it provides a gentle, calming effect and relieves your anxiety, the effects wear off within minutes. That means you'll be alert and aware right away and can drive yourself home after your appointment.
Which One Is Right For You?
Every patient is unique, so the best way to find out which option is right for you is to call or schedule a consultation with a dentist in Lake Highlands who provides sedation. This is also a great way to ease into seeing a dentist since you'll have a low-stress first appointment that doesn't involve any dental work.
Your oral health is crucial to your overall quality of life, and with the right sedation, you can get the care you need to have great oral health for life. And after you've had a few positive experiences in the dental chair, it will only get easier and easier from there.
It wasn't that long ago that people had little in the way of effective anesthesia before dental work, let alone sedation options. But today, dentists have safe, comfortable and reliable ways to deliver outstanding care – without fear or anxiety.
And once you experience feeling safe and secure in the dental chair, you'll be able to look forward to a lifetime of healthy smiles!
About the Author
Dr. Jim Miller is a sedation dentist in Lake Highlands with over 30 years of experience who is dedicated to providing high-quality dental care in a comfortable setting. Combining the latest technology with a warm, reassuring chairside manner, he's able to help even the most fearful dental patients get the care they need. If you suffer from dental phobia and have any other questions, he can be contacted via his website or at (214) 340-2111.
Comments Off

on Dental Care Without Fear? Sedation Dentist in Lake Highlands Explains How
No Comments
No comments yet.
RSS feed for comments on this post.
Sorry, the comment form is closed at this time.