March 13, 2019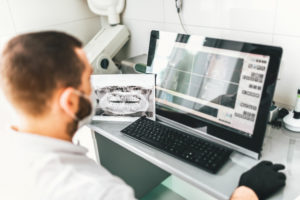 No matter what type of dental procedure you're in need of, it's best to work with a professional who stays abreast of the latest changes and complexities in the world of dentistry. Therefore, you can always rest assured that you'll receive the absolute best in care. If you're curious to know how your emergency dentist in Lake Highlands puts the latest technology to use to provide patients with top-notch dental care, then continue reading!
Why You Need a Dentist on the Cutting Edge
The dentist you entrust your dental care to should be a professional who stays "sharp." This translates into more effective care and greater oral health for his or her patients.
One of the ways for the dentist to go about this is to remain current with the new breakthroughs that are happening in the dental world. This is especially important in the department of technology, as it provides a way for patients to receive the dental care they need in a more comfortable and expeditious manner.
New Technologies to Enhance Your Dental Health
Over the past few years, there has been an explosion in the emergence of new technology. Here are a few examples of the breakthroughs.
Digital Impressions
No longer do patients have to endure messy putties in order to have a mold created for a restorative or cosmetic dental procedure. With digital impressions, patients experience a faster, more convenient and accurate process.
Soft Tissue Laser
Gum disease is a condition that affects over half of the American adult population. With the AMD Picasso soft tissue laser, though, harmful bacteria can be removed beneath the gum line and the tissue can be restored in a non-invasive and painless manner.
Intraoral Cameras
Have you ever visited a dentist for care and felt like you were completely in the dark about what was going on? With the recent emergence of intraoral cameras, the days of mystery dental care are long gone.
You can now have the same "bird's-eye-view" as your dentist while you're receiving care, which makes for a much more fun and educational visit.
Digital X-Rays
The traditional way to capture X-Rays is for patients to wear a protective covering while a radiation-emitting machine rotates around them. With digital X-Rays, though, patients are exposed to 90% less radiation, there are no loud machines and the process is much faster.
Cavity Detection System
One of the ways to prevent complex and painful dental issues in the future is to receive preventive care. With the breakthroughs in dentistry, there is a new way to detect cavities in a faster and less invasive manner.
Using the CariVu cavity detection system, your dentist can identify the harder-to-detect cavities and even weak areas in the enamel (the outer layer of the teeth).
It All Starts with Preventive Care
The first step to benefitting from the many technological advances in the world of dentistry is to contact your cosmetic dentist in Lake Highlands to schedule a visit. With the expert and technologically-advanced care you'll receive, you can enjoy the absolute best dental health possible!
About the Author
For over 30 years, Dr. Jim Miller has been a fixture in the Dallas community, providing top-notch dentistry. Still, the University of Texas Health Science Center at San Antonio School of Dentistry graduate remains just as driven as he was when he first entered the dental field. Dr. Miller provides state-of-the-art dental care at his private practice, and he can be reached for more information through his website.
Comments Off

on How Your Emergency Dentist in Lake Highlands Goes High Tech!
No Comments
No comments yet.
RSS feed for comments on this post.
Sorry, the comment form is closed at this time.