March 29, 2019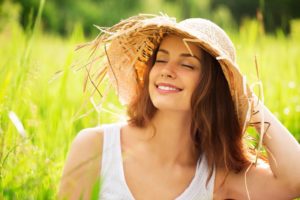 It's spring time! The flowers are blooming, the weather is warming up, and you're finally tackling those projects around the house that you've been meaning to accomplish. Organizing the attic and cleaning the garage are great tasks to get done this time of year, but what about your teeth? When was the last time you had them cleaned professionally? Well, now is the perfect time to do some spring cleaning for your smile with a dental checkup in Lake Highlands.
Catch Problems Early
At your six-month dental checkup, your dentist in Lake Highlands performs a necessary oral exam. Inspecting your teeth, gums, tongue, cheeks, and mouth for any abnormalities, they are able to diagnose any existing problems even at the early stages of development. For example, your dentist can identify and treat tooth decay while it's small and easy to address. If you wait to see your dentist until you notice a problem on your own, it likely has progressed to the point where it causes you pain and requires more extensive treatment to fix. By attending this appointment twice a year, you're more likely to catch early and resolve issues more easily.
Have a Clean, Fresh Mouth
Also during this appointment, you receive a teeth cleaning. Aren't brushing and flossing on your own enough? Even if you diligently maintain daily oral hygiene at home, plaque can still build up on your teeth. Over time, it hardens into tartar, which is much more difficult to remove. Your hygienist has the professional training and tools to remove this buildup. This cleaning can also remove surface stains, leaving you feeling more confident in your smile. Getting this service every six months allows you to essentially wipe the slate clean and start over with a fresh-feeling mouth.
Prevent Future Problems
By removing plaque and tartar buildup, your hygienist also prevents future oral problems from having the chance to develop. Take gum disease, for example. The bacteria in plaque buildup create toxins that irritate your gums. Without intervention, the gums can become inflamed and later recede. Eventually, the infection spreads to your jaw, weakening the support it gives to your teeth, and gum disease ultimately leads to tooth loss. All of this can be prevented by simply removing plaque buildup at your dental cleaning twice a year—in addition to your own oral hygiene.
Talk about Your Smile Goals
Your checkup and cleaning appointment is a great time to discuss your smile goals with your dentist. Do you want to straighten your teeth? Would teeth whitening help your smile look younger? Do you need to replace a missing tooth? You can learn more about cosmetic or restorative treatments that can address your concerns and give you the happy, healthy smile you've always wanted.
This spring, while you're checking off tasks on your to-do list, don't forget to take the time to address the cleanliness of your mouth. Your semiannual dental appointment plays a critical role in your long-term oral health and can help you feel ready to enjoy the warmer weather. Schedule your appointment with your dentist in Lake Highlands today!
About the Author
Dr. Jim Miller has been providing compassionate dental care for Dallas families for more than 30 years. With over 1,000 hours of continuing education under his belt, he has extensive knowledge in general dentistry, orthodontics, endodontics, cosmetic dentistry, and oral surgery. He also is certified in CEREC One-Visit Dental Crowns, Invisalign, and laser dentistry. To contact him for an appointment, you can call (214) 340-2111 or click here.
Comments Off

on 4 Reasons to Get a Dental Checkup in Lake Highlands This Spring
No Comments
No comments yet.
RSS feed for comments on this post.
Sorry, the comment form is closed at this time.